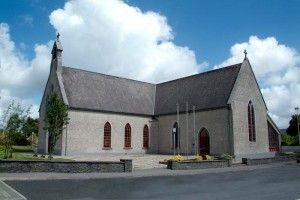 | | |
| --- | --- |
| Friday | 7.00pm |
| Saturday | Vigil 7.00pm |
| Sunday | 11.00am |
The Church of St. Finnachta in Sixmilebridge was built in 1812. Originally a thatched building with mud floor and small brick-surrounded windows. The building was reconstructed extensively in 1980 when the rear wall was removed and the sanctuary and transept areas widened. A new sacristy and meeting room was added. In 2004 the Church was re-ordered. A team of Liturgists and Liturgical Artists advised on the present layout of the Church. This work was carried out in eight weeks by local contractors. A piece of a tree which was growing locally and felled for firewood was retrieved and carved into the magnificent altar which is in place today. Local bog oak was also used in the Baptistry area. The original Baptismal Font and Tabernacle are still in use.
The Stations of the Cross designed by Artist John Shinnors have been moved to the Baptistry area where each station is a self standing feature.